Trending
Tabu's most unconventional characters that were highly applauded
Tabassum Fatima Hashmi aka Tabu is one of the finest actresses of Bollywood. Her acting skills and experience have always given her a chance to play versatile roles in each film she does.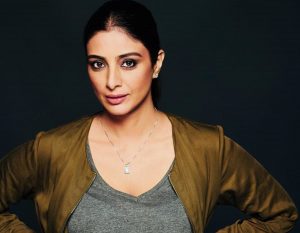 Tabu has been is Bollywood for almost 30 years now and during the period she has not only done mainstream commercial films but has also given life to many remarkable characters in other films.
Here's a list of few such movies where Tabu has worked her magic with her suava acting abilities:-
Chandni Bar(2001)

The movie that got the actress her second National Award for Best Actress, was Madhur Bhandarkar's Chandni Bar. Revolving around the life of Mumtaz who joins the profession of a dancer at a dance bar due to poverty, the movie won several accolades. Tabu performed exceptionally well in the movie thus giving full justice to the character.
The Namesake(2007)

Amidst the dark roles Tabu played, this character of a shy Bengali housewife in the movie The Namesake was truly amazing.
Although the movie's script waa about the relationship of a father and son, Tabu made a lasting impact with her role in the film.
Haider(2014)

Vishal Bharadwaj directed the movie Haider based on Shakespeare's Hamlet. Tabu played the character on Ghazala Meer who is the analogue of Shakespeare's Gertrude.
Tabu was seen in the movie after a long break post Cheeni Kum. However, her mesmerizing performance in movie never made us realise of her absence.
Maqbool(2004)

Yet another Shakespeare adaptation of Macbeth, Vishal Bharadwaj made Maqbool with Irfan Khan and Tabu in the lead.
Tabu played the character of Nimmi i.e. Macbeth in the film. Nimmi is the mistress of Don Jahangir Khan who gets self destroyed because of his greed for power.
Cheeni Kum(2007)
An outstanding example of unconventional film in Bollywood is Cheeni Kum. The movie presents Amitabh Bacchan as a 64 year old arrogant bachelor and Tabu as a 34 year old independent woman and the romance that brews between them.
The movie was highly loved by the audience who are otherwise not used to seeing such a love story.
https://filmymantra.com/mahesh-bhatts-daughter-shaheen-shares-the-death-and-rape-threats-received-by-messages-assures-she-will-demand-legal-action-in-this/