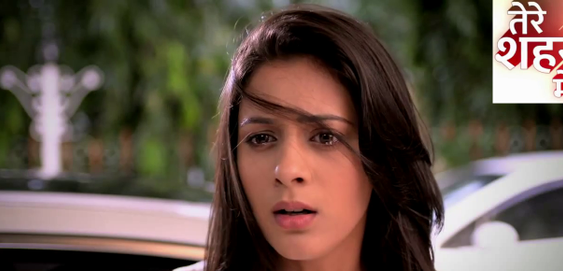 The future episode of Tere Sheher Mein will show that Sumitra asks Amaya to bath early in the morning for her muh dikhayi ritual.
Amaya (Hiba Nawab)starts sneezing after taking bath and Sumitra ask her to take everyone blessing.
Sumitra tries to humiliate Amaya in front of Sneha Mathur
Amaya is heartbroken & finding difficult to stand up due to fever but she make a decision not to bend down in front of Sumitra.
Amaya  Mathur thinks about Mantu in her pain & recalls how Mantu stood up for her all time & could not have see her in pain.
Amaya thinks about Mantu (Dhruv Bhandari) in pain
Amaya curses the time when she behaved rudely with Mantu.
Amaya thinks that Mantu deserves better girl in his life and hopes that everything will get fine soon in her life.