Arunabh Kumar, CEO of The Viral Fever (TVF) has landed himself in a messy soup! After two women accused him of having sexually harassed them at the workplace, as many as seven more women have opened up about Arunabh asking them for 'sexual favors' from them openly!
The news spread like forest fire as an anonymous blog post brought to light a different side of the much loved content company's CEO. This is what the blog read:
"I am abruptly called by Arunabh at 6.45 pm. I am in the local bank towards my home. He demands I come back to office. Apparently, I have not finished some part of my work. I reluctantly come back. There are three people in office. Two of them leave within five minutes of me coming in. And Arunabh is sitting on a chair in a casual manner. I walk up to him. He looks at me and asks me – "Chaturbhuj Sthan ka naam suni ho"? I am stunned. For non-starters, Chaturbhuj Sthan is the Red-Light district of Muzaffarpur. I didn't respond. His second question – "Humko Chaturbhuj Sthan bahut pasand hai. Udhar commercial deals hoti hain. Tum bhi to commercial deal pe aayi ho". I was getting where he was leading the discussion to. I avoided an interaction. I said "Arunabh, aap bade bhai hain. Meri tabiyat thodi theek nahi hai. Kya karna hai bataiye. Hum karke ghar jaayenge." He suddenly holds my hand. Says "Madam, thoda role play karein". The Ola team was meeting him and we were taking notes. He walks out of the meeting with some excuse and calls me for some notes. I walk up. He says it's time we do a 'quicky'. I am stunned. And I told him I will go to the police. He says, "Police to meri pocket me hai". I walked out deciding never to come back. I walk up to my bosses and tell them that I don't want to see him, they simply ask me to walk out. I tell (Naveen) Kasturia that this is what has happened, and he laughs it off. Says, 'Duniya hai. Hota hai.' I just wished I could kill myself."
One out of the seven women who opened up to an entertainment portal revealed that Arunabh groped her at his house. She said:
"I was in a meeting at Arunabh's house with three other women. The meeting was taking place in the hall of the apartment. Arunabh left the meeting in the middle and went inside. Since he was gone for quite a while, I went inside the next room to call him. Suddenly, I felt someone from behind grope my breasts, and when I turned around, it was Arunabh. I was in shock. He was looking straight into my eyes. I rushed out of the room. The meeting resumed shortly after and lasted another 20 minutes. At the end of it, I walked out of TVF, never to return."
In a shocking revelation, another employee was quoted saying,
"I have faced a similar experience while I was working there. I felt exploited and cheated and I left my job under very bad circumstances. I hope things have worked out for you. It is indeed no place for a woman. I would never recommend anybody to work there."
Another ex-employee opened up on her unfortunate encounter with Arunabh:
"Early last year, I was shooting with Arunabh in the TVF office, for a web series on people who changed professions to follow their passions. The first time we met at the recce, he asked me to send him my work, which I did out of courtesy. When we met on the day of the shoot, I asked him if he had seen the links. To this he said – why don't you come over to my place and we can watch them together. We can also watch a movie. Which movie do you want to watch? I politely evaded the question and continued briefing him about the shoot. I had to speak to my producer to ensure that I was not left alone with him at any point of time. Later when I spoke to someone at my agency about it, she said that she too had heard similar accounts of Arunabh. At the end of that shoot, I didn't retaliate and shrugged it off. On seeing the medium.com post, I realized that I shouldn't have. If this is how he could behave with me, without knowing me, within 5 hours, I can't imagine how he'd behave with women working for him for years."
Though TVF has refuted these rumors and termed the revelations by the women as "fake", as many as 9 women have shared their encounters with Arunabh. The latest was  a certain Reshma Patra's Facebook post where she wrote about her experience with Arunabh on a "coffee date":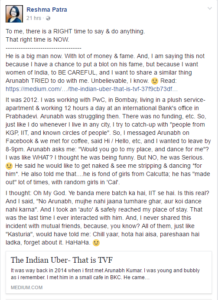 We wonder how Arunabh will deal with all this and when he would speak up in his defense. Let's wait and watch how this one turns out.