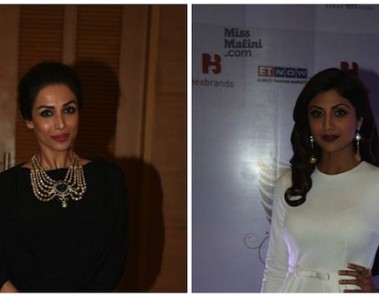 Shilpa Shetty Kundra & Malaika Arora Khan Fashion Check
The first thing to come to our minds when we saw these divine outfits was Michael Jackson's famous, Baby, It Don't Matter If You're Black Or White. We don't know if these monochromatic looks were planned or just sheer coincidence, but we love the top-to-toe colors! Scroll down to see the full pictures.
Shilpa Shetty Kundra looks angelic in this Amit GT white gown, paired with a Cavalli clutch and matching lips and nails! While we love how the dark lip and nails stand out against the white, we think a non matchy-matchy shoe and clutch would've done the dress so much more justice! But hey, she's one hot mommy and so really, we can't complain too much!
Malaika Arora Khan was at the same event, the Brand Vision India Awards, and she chose to mix and match her outfit in the best way possible. Malaika paired a Neha Taneja skirt with a Shantanu & Nikhil draped top. The results, well… they're in front of your eyes. Just goes to prove that Malaika can do elegant just as well as she does sexy! The Farah Khan necklace takes the whole outfit from classic to va-va-voom! And we can't get enough of it.
For hair and makeup, we give both the hot moms a 10 out of 10. What say? Do you agree with our choice?
Pix: Viral Bhayani for MissMalini