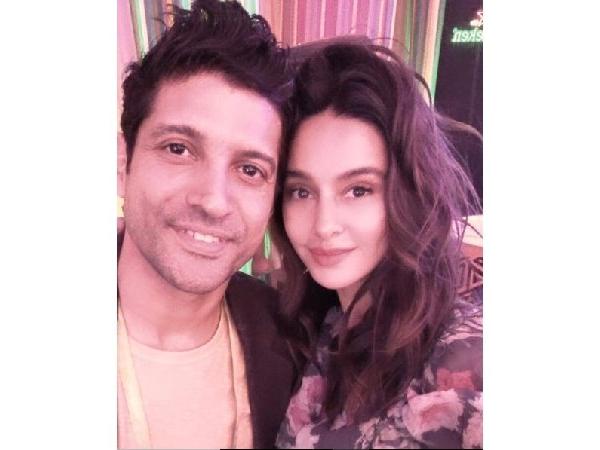 Soon after Farhan Akhtar got divorced with Adhuna Bhabani, reports of him dating his 'Rock On 2!' co-star Shraddha Kapoor started spreading in the industry. However, their relationship didn't last long as there was a buzz that there is a new lady in Farhan Akhtar's life. Soon came another report stating that the actor is dating 37-year-old singer-actress Shibani Dandekar. While all this time these were are speculations and assumptions, recently Farhan Akhtar himself has just made his relationship with Shibani Dandekar official by posting a picture with the lady on his social media with a heart emoji in the caption! Well, now that the two have accepted their relationship over social media, here's Shibani Dandekar posting a picture on social media, saying she bumped into Farhan accidentally but the fans do not believe it!
Since their rumoured relationship no longer remained a secret ever since the couple posted the same photo of them at a gap of about a month, the hashtag #bumped is getting a little hard to digest for fans. Looking at the comments on the picture, the fans of the couple seem to have smelled the sarcasm behind the clever caption!
Here's fans commenting in disbelief!
Farhan Akhtar and Shibani Dandekar were snapped together in London earlier this year! Farhan Akhtar shared a certain pictures of Shibani Dandekar on his Instagram Stories then and this amused the people even more! Last month, Shibani dandekar shared a picture of the two holding hands, walking on the streets of London, without a caption! Farhan and Shibani know each other since 2015. Shibani was a participant of a show hosted by Akhtar.
Stay tuned for more updates!