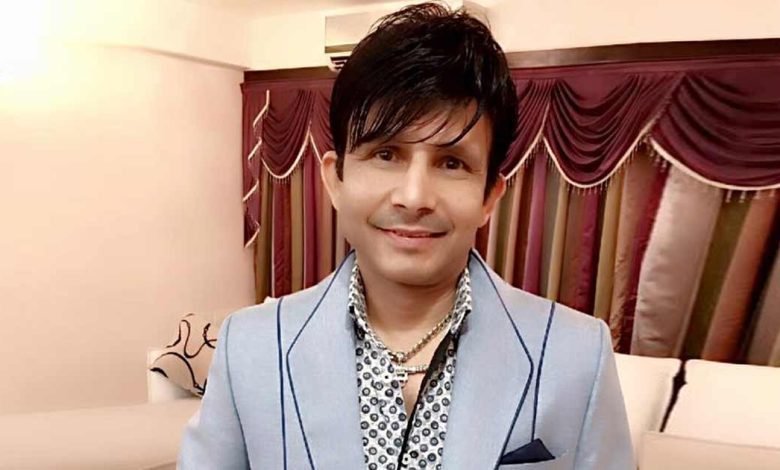 Key Takeaways:
Kamaal R Khan, better known by his stage name KRK, has again targeted the two major Bollywood films of 2022, RRR and Brahmastra.
In the following tweet, KRK listed the money lost by the film's producers. According to KRK, Brahmastra producers lost Rs 300 crores.
The two major Bollywood films of 2022, RRR and Brahmastra, have yet again been targeted by Kamaal R Khan, better known by his stage name KRK.
In a series of tweets, KRK asserted that the producers of the SS Rajamouli films RRR and Brahmastra, starring Alia Bhatt and Ranbir Kapoor, had lost money.
For his tweets, movie reviews, and tweets, Kamaal R Khan is well-known. KRK frequently shares his thoughts on Bollywood, movies, and their industries on his Twitter account.
The tweets frequently cause an uproar on social media and are shocking, as is the case now. KRK listed the top 5 Bollywood disaster movies.
The producers of RRR, Brahmastra and other movies suffered losses.
Kamaal R Khan tweeted his list of the top five disasters of the year a few hours ago. It starts with Ayan Mukerji's Ranbir Kapoor and Alia Bhatt film at the top, followed by RRR with Ram Charan and Jr. NTR, Samrat Prithviraj with Akshay Kumar and Manushi Chhillar, Laal Singh Chaddha with Aamir Khan as well as Kareena Kapoor Khan, and Vikram Vedha with Hrithik Roshan and Saif Ali Khan.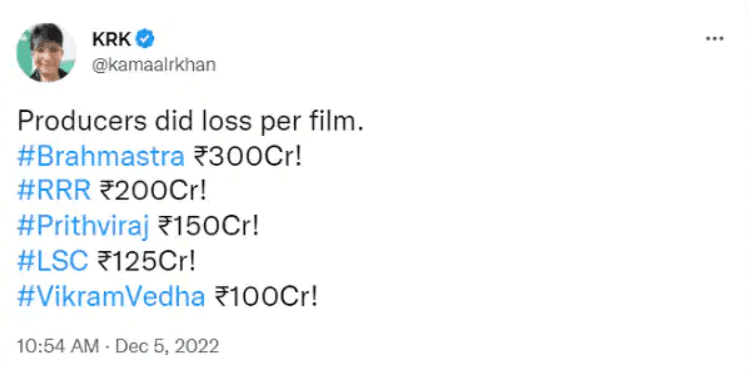 KRK listed the amount of money the film's producers lost in the following tweet. Brahmastra producers, according to KRK, lost Rs 300 crores.
Rs 200 crores were lost by RRR producers. Laal Singh Chaddha's producers suffered a Rs 125 crore loss. While the producer of Akshay Kumar's film suffered losses of Rs 150 crores.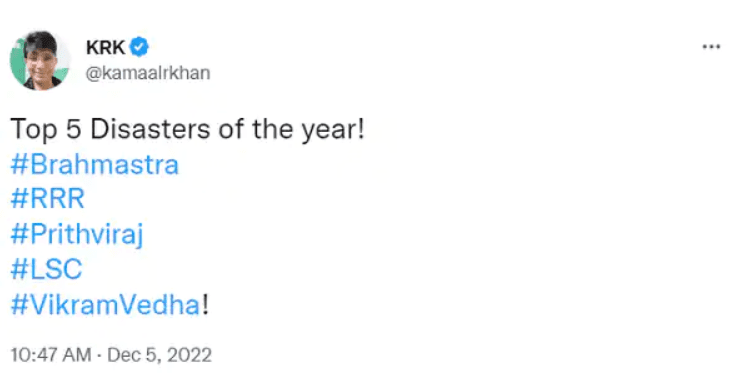 KRK asserts Karan Johar attempted suicide.
Despite reports that Brahmastra was a huge blockbuster, Kamaal R Khan claimed that his sources told him that Karan Johar attempted suicide after Brahmastra suffered losses.
KRK also claimed in his tweet that a source informed him that Reliance chairman Mukesh Ambani had given him a Rs 300 crore loan.
Karan has yet to respond to his allegations. Meanwhile, KRK's tweets are making the rounds in Entertainment News.