Sushant Singh Rajput's death left the entire Bollywood industry divided into those supporting nepotism and others not supporting it. A lot of big Bollywood producers and filmmakers had to bear the brunt of angry fans. Amidst many other names one name that grabbed a lot of attention was of the Bhatts. Sushant's brother further added fuel to fire by creating the 'Nepometer' of Sadak 2 claiming it to be 98% nepotistic.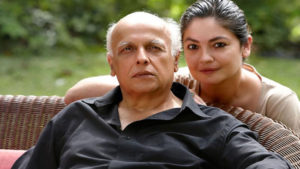 Alia has remained mum over the entire controversy so far. However her sister Pooja Bhatt recently took to Twitter to revolt against the allegations. She clearly said that the Bhatts don't deserve to be called nepotistic as they have launched so many outsiders, musicians and technicians that it cannot be matched with those launched by the entire Bollywood industry.
These are the series of Tweets tbat Pooja Bhatt posted:-
#1.
Have been asked to comment on the hot topic Nepotism that people are raging about. As someone who hails from a 'family' that has launched more new talent-actors,musicians & technicians,than the entire film industry combined I can only laugh.Facts don't find takers. Fiction does.

— Pooja Bhatt (@PoojaB1972) July 8, 2020
Pooja also further added that there was a time when the Bhatts were summoned of not working with established actors.
#2.
There was a time when the Bhatt's were accused of having something against established actors & made to feel inferior for only working with/launching newcomers & not chasing stars. And now the same people play the nepotism card? Google & tweet guys & won't even say think & speak.

— Pooja Bhatt (@PoojaB1972) July 8, 2020
#3. Pooja also commented on Kangana saying that she too was launched by the Bhatts and if it wasn't for Gangster's success, Kangana would have not been as successful as she became.
As for Kangana Ranaut-She is a great talent,if not she wouldn't have been launched by Vishesh films in "Gangster".Yes Anurag Basu discovered her,but Vishesh Films backed his vision & invested in the film. No small feat. Here's wishing her the very best in all her endeavours.

— Pooja Bhatt (@PoojaB1972) July 8, 2020
#4.
Even #Sadak2 gives birth to a brand new talent in the form of @Suniljeet72 A music teacher from Chandigarh who came to our office with no prior appointment,a dream,a harmonium & a brilliant song called 'Ishq Kamaal' that was absorbed into the film on first hearing by my father.

— Pooja Bhatt (@PoojaB1972) July 8, 2020
Pooja ended her post by saying that the ones who are ungrateful for the fact and have forgotten about this becomes victims of their own tragedy.
#5.
Toh yeh 'Nepotism' shabd se kissi aur Ko zalil karne ki koshish karo doston. The people who have found their way into the movies through the springboard we provided over the decades know what we stand for. And if they have forgotten,It's their tragedy. Not ours.Have a great day!

— Pooja Bhatt (@PoojaB1972) July 8, 2020
The Bollywood scintillating diva Kangana was quick enough to react to Pooja's Tweet. She said that the Bhatts hire outsiders in order to make them work for free.
1.
Dear @PoojaB1972, #AnuragBasu had keen eyes to spot Kangana's talent, everyone knows Mukesh Bhatt does not like to pay artists, to get talented people for free is a favour many studios do on themselves but that doesn't give your father a license to throw chappals at her…(1/2) https://t.co/5afdsJJx4F

— Team Kangana Ranaut (@KanganaTeam) July 8, 2020
2.
…call her mad and humiliate her. He also announced her "tragic end", Also why was he so invested in Sushant Singh Rajpoot's and Rhea's relationship? Why did he announce his end too, some of the questions you must ask him 🙏 (2/2)@PoojaB1972

— Team Kangana Ranaut (@KanganaTeam) July 8, 2020
3.
For your info @PoojaB1972 Kangana had also auditioned for Pokiri, alongside Gangster & got selected for that as well. Pokiri went on to become an all time blockbuster, so your thinking that because of Gangster she is who she is, is totally not working. Water finds it's level🙏

— Team Kangana Ranaut (@KanganaTeam) July 8, 2020
It is indeed very sad to see top Bollywood celebrities indulging into arguments on the social media. Pooja Bhatt and Kangana Ranaut's this Twitter banter only displays the ugle reality of Bollywood. There is no space for friendship and loyalty in the industry.
We hope the entire nepotism fiasco now concludes with just decisions and justices to Sushant.
https://mobile.twitter.com/PoojaB1972?ref_src=twsrc%5Etfw%7Ctwcamp%5Etweetembed%7Ctwterm%5E1280749414559039489%7Ctwgr%5E&ref_url=https%3A%2F%2Fwww.storypick.com%2Fpooja-bhatt-nepotism%2F