Celebrity News
News
viral
Trending
Nitin Jani aka Khajurbhai's new Song Broom Broom is out Gujarati Swag in Dubai.
Khajurbhai's new song Broom Broom is out and already getting fantastic responses.  Watch the song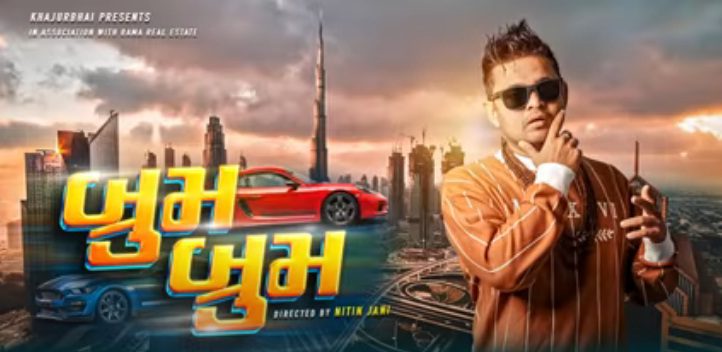 Khajurbhai, a famous YouTuber known for his comedy videos and stories, is ready with Broom Broom. In the past, he has done solo songs too. But this time, with Broom Broom Song, he is taking Gujarati Music Industry to the next level. Khajurbhai's new song Broom Broom is out and already getting fantastic responses.
Broom Broom song is produced by Ivan Kazi / Tarun Jani. Dop & Edit By – Dhruv Pandav Music – Rahul Munjariya / Jimmy beatzz Lyrics – S S Sharp. Additional programming- Boney John Mix by – Rakesh munjariya (shine wave ahmedabad). Master by – Gethin John ( hafod mastering wales UK ) Technical support – Amar digital
Gujarati music on International Platform:
The first time we will see a Gujarati singer / Actor or YouTuber making a song at an international level, too, in the Gujarati Language. Great to see young talent like Nitin Jani making the Gujarati language a global language. Generally, Swag songs are done mainly by Punjabi artists and the music industry, and it is famous worldwide. But this time Gujju singer attempted new music to connect with the Gujarati language. And it looks fabulous too.
Jani Brothers:
The lyrics of the songs are well written, and Nitin Jani aka Khajurbhai's new song Broom Broom is already a hit on the first day. Both brothers, Nitin Jani and Tarun Jani, are seen in this song. Tarun is Nitin Jani's brother, who plays a famous character in khajurbhai. Jani brothers are always together, and they do things beautifully, whether its song or youtube videos.
Bold step from Nitin Jani and his team:
The good thing about Nitin Jani is that he does everything wholeheartedly. He enjoys trying new gutsy things. This song will start a new era in the Gujarati music industry. This is a brave effort from Nitin Jani to create such a song in Gujarati. Surely we will see more of these kinds of songs in 2023 from different singers in Gujarat.
The Gujarati Music industry is mainly known for its Folk songs, Dayras and all. To attempt such things needs guts. Nitin Jani Aka Khajur bhai is known for trying new things. Even his dramas on youtube are top-rated, funny and loved by millions worldwide. He is also known for his social activities, which he has been doing for a while.
We wish Khajur bhai and his team all the best for their projects, and we hope he takes the Gujarat music industry to the next level with this kind of bold project.
Indeed it will be the most-played song in UTTRAYAN 2023. Most of the Gujjus will play this song, BROOM BROOM, on 14th Jan 2023.