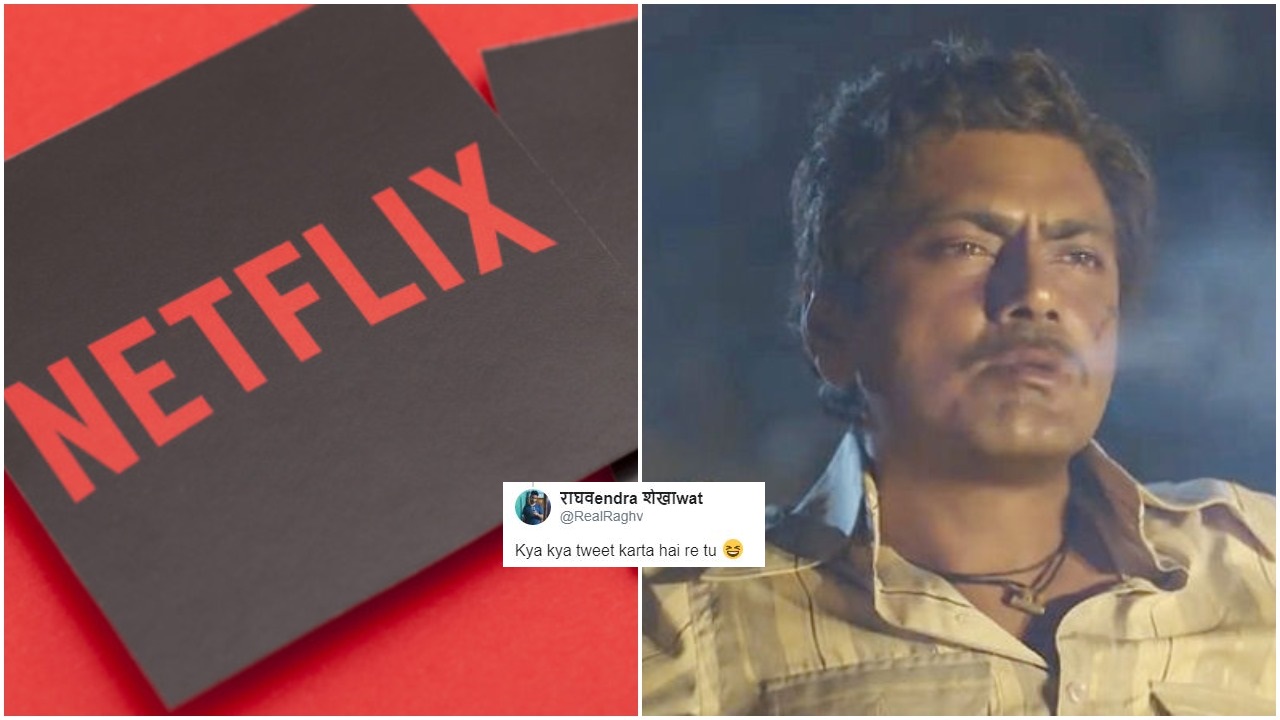 Netflix has been able to expand its footprint in India, all thanks to some amazing original content. One web-series that has received tremendous buzz and appreciation is Sacred Games. Each and every character of the show was praised but Nawazuddin Siddiqui stole all the limelight. Nawaz's character became an instant hit with fans reciting his dialogues every now and then. Twitter is still flooded with countless memes and jokes about his character from Sacred Games Ganesh Gaitonde.
The talented actor celebrated his birthday yesterday, social media was flooded with birthday wishes for the acclaimed actor. However, one wish clearly stands out among all this. Netflix India took to Twitter to wish Nawaz on the big day by using his popular dialogue from Sacred Games. Remember Ganesh Gaitonde saying, "Kabhi kabhi to lagta hai apun hi baghwan hai," Netflix wished Nawaz by referring to this same dialogue. Netflix tweeted,
"Happy birthday, @Nawazuddin_S. We'd say God bless you but since you're bhagwaan, kindly bless yourself."
Happy birthday, @Nawazuddin_S. We'd say God bless you but since you're bhagwaan, kindly bless yourself.

— Netflix India (@NetflixIndia) May 19, 2019
Netflix has shown its amazing promotional strategy time and again. This is no different. This tweet is getting lots of praise from Netizens, all thanks to the hilarious and creative nature of the tweet. Look at some of the reactions down below:
https://twitter.com/amitkyadav22/status/1129983209716903936
Happy birthday Bhagwan. Aacha Bhagwan chhodo Jadu to mante ho.

— Yera Raina (@yeraraina) May 19, 2019
Arey humne socha tha is bahane mein kuch to update milega #Phir_se_kaata
Btw tweet achi hai

— Manjunath Saukar (@SaukarManjunath) May 19, 2019
https://twitter.com/DevikaKardash/status/1129999790870130688
Ni bataega apun ko release date ni bataega ye @NetflixIndia. Bhenchod
Bhagwaan(@Nawazuddin_S ) ka to khauf kr bsdk.. pic.twitter.com/sNeuCpjcZF

— Akaashdeep (@akaashdeep91) May 19, 2019
@mahbubaniamit This will be how we will wish you on your birthdays

— PINGAL KAKATI (@pingal_kakati) May 19, 2019
Happy birthday legend

— SANAM BHATIA (@SANAMBHATIA99) May 19, 2019
So even GOD dies, hope HE is resurrected now

— Arc mak (@ArunMakwana7) May 19, 2019
1 hi to dil h kitni baar jitoge…. @NetflixIndia @Nawazuddin_S

— Jayant bhandari (@15_aug_2000) May 19, 2019
nice one..netflix ka bhagwan..nawaz bhai happy birthday

— Piyush Wazalwar (@piyushwazalwar) May 20, 2019
https://twitter.com/RupendraKanjil1/status/1129996820787056640
Kya kya tweet karta hai re tu

— राघवendra शेखाwat°• (@RealRaghv) May 19, 2019
Sacred Games 2 will release sometime soon. Till then, enjoy the tweet.