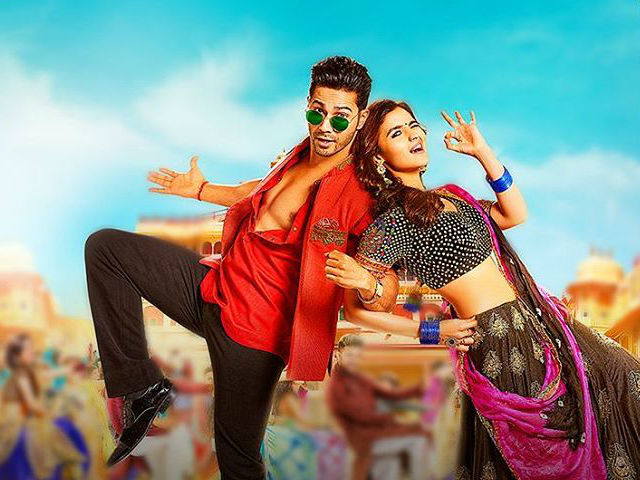 The 'Humpty Sharma Ki Dulhania' duo is back to share the silver screen with their latest release Badrinath ki Dulhania. Directed by Shashank Khaitan, this Karan Johar romcom film starring Alia Bhatt and Varun Dhawan in the lead roles, also features Sahil Vaid, Aakanksha Singh, Gauahar Khan, Shweta Basu Prasad. While Alia Bhatt plays the character of determined, ambitious girl Vaidehi who wants much more than just a pretty lehenga, she demands respect, wants a career and wants to be seen as equal to her male counterparts. On the other hand, Varun Dhawan is playing the character of Badrinath aka Badri, who wants make Vaidehi fall in love with him and works his charm along with the help of friends and family manages to bring her to the altar.
The movie is nothing like Humpty Sharma Ki Dulhania where Alia Bhatt just wanted a pretty designer lehenga on her wedding day. Unlike its title, Badrinath ki Dulhania talks about the world beyond marriage in an Indian society. Set up in a small town of Uttar Pradesh, the film tells what happens when two individuals that are totally opposite go against each other. The movie sends a very strong message in an interesting way. Badrinath Ki Dulhania is what happens when a substantial social message forms a significant undertone of a modern-day breezy love story leading to an outright 'paisa-wasool' Bollywood film. The last time Alia Bhatt and Varun Dhawan united on screen, they brought to life the love story of Kavya Pratap and Humpty Sharma in Shashank Khaitan's Humpty Sharma Ki Dulhania. And this time, Khaitan weaves a delightful yet complicated tale of Badrinath and Vaidehi, making an out and out commercial success.
Badrinath Bansal (Varun Dhawan), a gullible, pampered son falls in love with a go-getter and a rebellious woman Vaidehi Tiwari (Alia Bhatt). It's love-at-first-sight for Badri who belongs to Jhansi, but the woman has her own priorities. Being the dedicated lover that Badri is, he decides to pursue the smart Kota woman. Just like a usual Bollywood film, the two meet and soon their fights turn into adorable banter and before you know, she has fallen for him too. Badri's attempts to make her fall in love with him are more like good deeds for family members. But the story doesn't go the usual way and a climax awaits the viewers.
Alia Bhatt, as a performer, is a delight to watch. She paves her way from being a good family girl to pursuing her passion and amid the onscreen personal journey, you witness her professional transformation too. First half sees her as a woman with a strong grip on burning one-liners, at times slyly pulling Badri's leg, and dropping hints with her charming smile. If not that, she's giving back to patriarch ideologies without being too loud. The second half shows her as a confident woman, pursuing her passions vehemently and leading a successful life away from home.
Beneath the 'paisa wasool' plot lie some grave societal issues. The film begins with a humorous take on gender-based discrimination thereby tagging 'ladki' as a 'liability' and 'ladka' as an 'asset'. It brings to the limelight the culture of dowry, the depth of patriarch values ingrained in our society, the mere respect standards of 'ladkiwala' and 'ladkewala' during the wedding ceremonies and the urge of a modern woman to live her life on her own terms – both financially and emotionally. It wavers from one relevant issue to another without being boisterous or sounding preachy. The makers haven't made obvious the good intentions that form a strong undertone of this breezy love affair yet the message is crystal clear.
Director Shashank Khaitan's understanding of modern-day relationships is a job well done. He has managed to capture the intricacies and complications of a human mind in a pretty relatable way.
The droll one-liners are the true strength of this film and probably play a major part in building the characters that have been etched. More like subtle digs making viewers face to face with the society's stark reality such as 'Dulha dhoond rahe hai Roadie nahi' or '3 saal se tumhara biodata ghoom raha hai' or 'Ladka humara sale pe nahi hai'. Several other references including 'rejection ka thappad', 'ghusand' or 'chutkimeishaadi.com' in tandem with the dialect will leave you in splits. Even though the dialect is a bit flawed, it is still a minor drawback.
Watch this one for its well-woven plot, crisp performances, groovy numbers and of course, the good intentions. The fact that it questions the patriarchal mindset with a breezy modern-day love tale makes it a relevant watch. It's an absolute feel-it movie! The pair of Alia Bhatt and Varun Dhawan is refreshing as ever, while their chemistry on screen is sparkling, their characters are entertaining.The fact that the Bhatt and Dhawan are comfortable with each other makes their pairing look so effortless. They share a camaraderie that tugs the viewers' hearts each time they appear together. Alia's breezy vibe complements Varun's enthusiastic persona and churns out an onscreen couple Bollywood is lucky to have.  Songs like Tamma Tamma Again and title track Badri Ki Dulhania gives the movie an extra edge and makes the movie refreshing for the audience. This Karan Johar production is colorful, enjoyable, romantic and also delivers an important message.