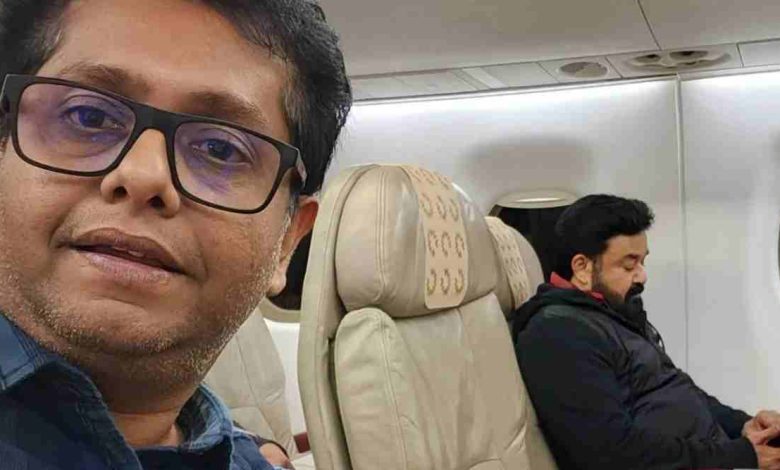 Key takeaways:
Mohanlal and Jeethu Joseph have joined again for an upcoming Ram movie and have gone to Morocco for the new work.
The director posted a few photos of the Malayalam star.
Mohanlal and Jeethu Joseph, one of the most prominent actor-director pairs of Malayalam films, are joining hands for the upcoming movie Ram.
The film's shoot has been moving quickly phase at varied foreign places. After finishing a long schedule in London, Mohanlal and the crew are all set for the following schedule in Morocco.
On Tuesday, director Jeethu Joseph took to his Instagram account to state that Mohanlal and the crew are on the way to Erfoud, Morocco.
The pictures show Mohanlal boarding the plane. The director also clicked a photo with the star on the flight. The filmmakers also planned to shoot a few scenes in Morocco, Tunisia, and Israel.
It is believed to be a 40-days-long work in Morocco, after which the gang will go to Tunisia for a 6-days-long shooting.
About Ram
The much-anticipated film reportedly circles around a series of murders in various regions of the world. Mohanlal plays the supposed role of Ram Mohan IPS, an Indian RAW agent who leads the investigation unit.
Trisha Krishnan, the famous South Indian actor, appears as the female lead in the film. As per the news, Trisha is portraying the role of Dr Vineetha, the wife of Ram Mohan, in the drama.
Ram, which initially began rolling in 2020, was postponed numerous times due to covid. The project was subsequently put on the back burner for around two years.
The highly awaited movie marks Mohanlal's fourth alliance with hitmaker Jeethu Joseph after the enormous successes of Drishyam, Drishyam 2, and the newly released thriller 12th Man.