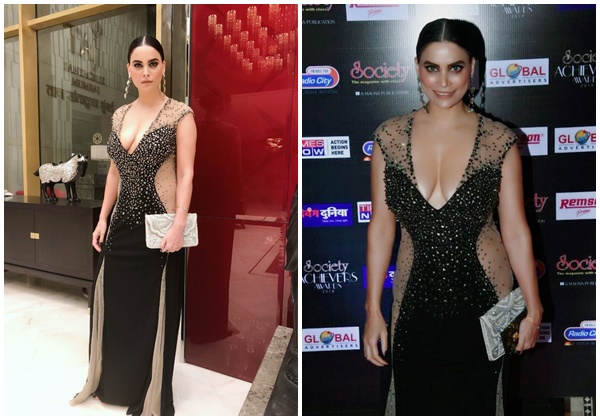 The very sensational beauty Marina Kuwar at the Society Achiever Awards 2018 in Mumbai on 14th January 2018. She was looking great in her black gown with golden embroidery to it.
The Society Achievers Awards was held on 14th January, 2018 is an occasion where the people come together at a grand venue to raise a toast to some powerhouses of talent amongst the industry. List of celebrities were presented at the occasion such as Rekha, Hema Malini, Karan Johar, Rohit Shetty and Zeenat Aman. In 2018, the jury of the award decided to honor Rohit Shetty.
On the other hand, Marina Kuwar looks mesmerizing in black gown with golden embroidery. We love this fierce look of Marina Kuwar at the red carpet of Society Achievers Awards 2018. The actress showed off her cleavage in a sheer slit gown. Marina Kuwar looked hot in this sexy embroidered high slit gown. Media kept an eye on Marina's look on this occasion.
Marina has not just flaunted her supermodel figure on the red carpet but also on everybody's mind. We can't get over her daring sheer deep plunging neckline high slit gown. She looks breath-taking in this black and golden embroided gown which had a keyhole neckline and a deep cut back. Marina is one style icon who has donned high slit gown and plunging necklines with ease. Most of the times, she left little to imagination.
Many high graded celebrities seen in the award show from Bollywood's Director to Music Composer and Bollywood Stars. Marina's glamorous look raises the temperature at the Society Achiever Awards show.
Marina lastly seen in Bigg Boss season 10. She received her first print ad assignment from canon. Earlier she worked as a Marketing Executive in USA. Recently she was seen in Society Achiever Awards and looks flawless in her black gown.
For more Bollywood updates, Stay tuned to Filmy Mantra.