While women are constantly reminding men that they will never "understand period pains and labor pains", there are many things that men believe women will never understand about them.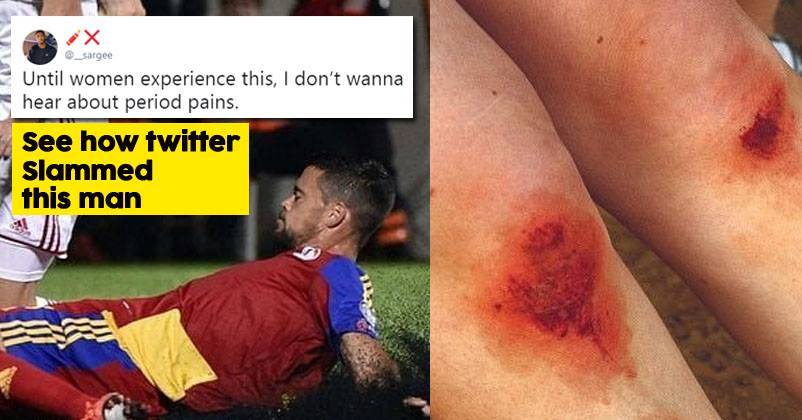 A guy took to twitter to only imply that women react disproportionately about cramps, but also that when it came to nothing compares to scrapping your knee during a game. He thought he would get away with just anything, posted a picture of his injured knee. Apparently he had got hurt while playing soccer.
In such a case, women across the internet didn't hesitate to put him in his place. Not only women, but a few men also who had to say a lot about the stupidity of this man.
Here's what Twitterati had to say:
Until women experience this, I don't wanna hear about period pains. pic.twitter.com/8Bgr7Ivyy6

— Sarge (@__sargee) March 15, 2019
I don't understand. Do you think women don't play sports, or women are invulnerable? What's the point you're trying to make here? I know that you're wrong, I just want to know how wrong.

— Alexandra Erin (@alexandraerin) March 17, 2019
— Melisa Garcia (@MelisaG81561023) March 17, 2019
Why some people have to disrespect the woman, the mom that suffered to give them birth 🥺

— gameslister.com (@GameslisterC) March 16, 2019
In speaking with my wife, if you complain about this, you probably couldn't HANDLE period pain. At least this pain is something you get to choose.. Women don't necessarily get to opt out of that pain.

— John Roushkolb (@jroushkolb) March 15, 2019
— ylana✨ (@crazygeniuspml) March 16, 2019
firstly playing sports is a choice unlike having a period… secondly…

ps: i'm aware the woman in the last picture is a rugby player, but she's still an athlete so 🙂 pic.twitter.com/WOKjHxSm2J

— emily (@pctterdiaries) March 16, 2019
Man I got turf burn like that long before I ever got my period lmao good try tho

— Kayla Knapp (@TheKaylaKnapp) March 15, 2019
If you think that is pain you should dance ballet pic.twitter.com/cBmoKoyarB

— Sara Rosa🌹 (@sara_rosa04) March 17, 2019
Correct, and the comment about "male" soccer players was directed at "male" soccer players and their whiney bullshit.

— Thoughts of Cop. (@thoughtsofcop) March 19, 2019
I nominate this tweet for the worst take of 2019.

— Brian E. Paterson (@BrianEPaterson) March 18, 2019