Actress
News & Gossip
Sanam kapoor talks about her son what difficulties she is facing doing dual job
Key Takeaways:
Sonam Kapoor attended the Red Sea International Film Festival in Jeddah. She recently posted a video to YouTube describing her anxiety-filled journey to the airport.
Sonam Kapoor was present in Jeddah for the Red Sea International Film Festival. She recently uploaded a video discussing how anxious she felt while travelling to the airport.
It was her 1st international event since the child's birth, so she was asked in the video if she would miss her newborn son Vayu.
I'm going to miss him so much, Sonam said. I find it difficult to leave him behind even if it's just for one day. I don't feel stressed because he is with my mother and sister. I've been working for exactly 20 hours. I have come up with a plan to leave early and return.
Sonam Kapoor, a new mother, opted for a simple, uncomplicated appearance at the airport. She wore a long cream trench coat over a beige outfit.
As she travelled to Jeddah for the occasion, she wore a pair of oversized sunglasses. The actor posted the video and thanked her crew in the caption, saying, "One day for @chopard at the @redseafilm." with my top group.
Sonam arrived in style at the Red Sea International Film Festival wearing a red dress with ornate sleeves. She added a big diamond necklace to it. Later, she changed into a similarly stunning yellow outfit.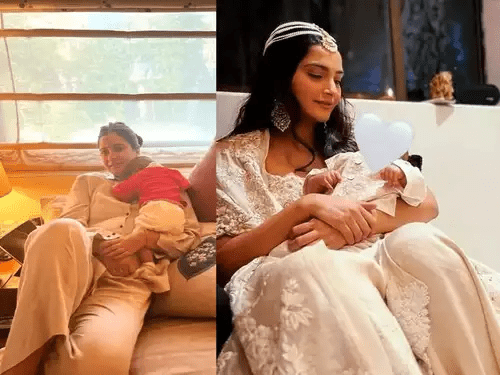 Along with Sonam, several other Bollywood stars also attended the festival. Saif Ali Khan, Kareena Kapoor, Shah Rukh Khan, as well as Priyanka Chopra were among those present.
Sonam's subsequent appearance will be in Blind, a Sujoy Ghosh production. She finished the filming before finding out she was expecting Vayu. She was born to the actor on August 20.
In an interview with Vogue before the baby was born, Sonam had said, "I always was a little picky. I'm just doing my own thing; I'm not involved in the rat race. That won't change, but priorities shift, and I believe the child will become my own.
They didn't choose to enter this world, which is the fact of the matter. You made a very self-centred decision by bringing them here.
I'll do my best to be the best mom I can be, so acting will undoubtedly take a backseat, but I don't think I'll ever stop working.