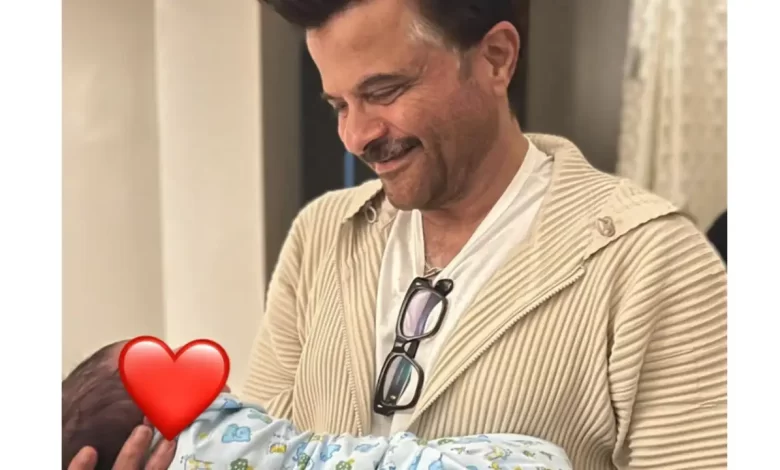 Key Takeaways:
Actor Anil Kapoor celebrated his 66th birthday today, and his daughter Sonam wrote a heartfelt post to wish her devoted father a happy birthday.
In August of this year, Sonam and Anand Ahuja welcomed a son. Their vows were exchanged in May 2018. They announced they were expecting in March 2022.
Anil Kapoor, a veteran actor, turned 66 today, and Sonam Kapoor wrote a sweet post to wish her devoted father a happy birthday. She posted several photos from her early years as well as an unreleased image of Anil Kapoor and her young son Vayu.
Anil Kapoor, the new grandpa, was pictured in the first image holding Vayu, the son of his daughter. In the photo, he was smiling broadly as he looked at his grandson. Sonam decided to cover Vayu's face with a heart emoji rather than reveal it.
"Happy birthday to the greatest father in the world. I adore you." The best and greatest person is you. You work tirelessly for our benefit. We ought to all be so fortunate. Love you, Daddy," Sonam wrote in the caption of her Instagram post, which was filled with memories from her early years up until adulthood.
Anil Kapoor previously talked openly about his impending grandfatherhood. By quoting his line from Dil Dhadakne Do, "I feel on top of the world," he said nothing could be better than these feelings. Knowing that Sonam would make the ideal mother, he had expressed how wonderful it was to see his grandson every day.
The birth of Sonam and Anand Ahuja's son occurred in August of this year. They exchanged vows in May 2018. In March 2022, they made the news of their pregnancy.
Sonam recently disclosed the reasons for her marriage, including the important role her mother, Sunita Kapoor, played.
A story about fathers and daughters that she also shared was purportedly dedicated to her father, Anil Kapoor, and described how she learned the meaning of love from her parents.