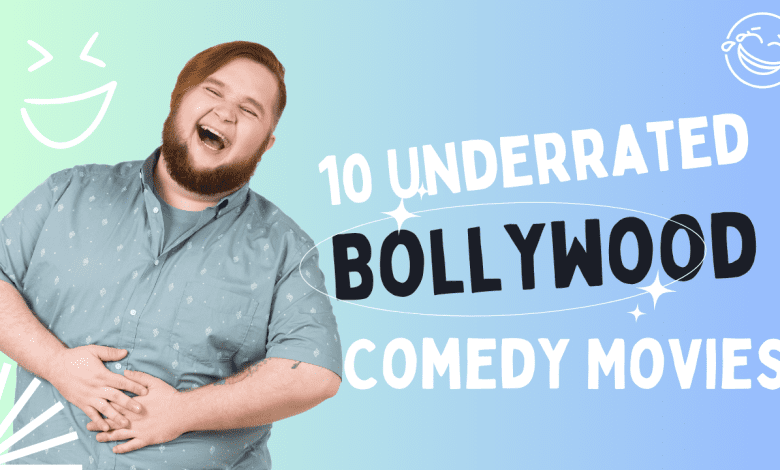 Bollywood has produced numerous comedy movies over the years, some of which have become iconic and household names. However, amidst the well-known classics, there are several hidden gems that often go unnoticed. These underrated Bollywood comedy movies possess the power to make you laugh uncontrollably and leave you with a warm, fuzzy feeling. In this article, we bring you a curated list of 10 underrated comedy films from Bollywood that deserve more recognition.
Prepare yourself for a rollercoaster ride of laughter, as we delve into these hidden treasures of humor that are waiting to be discovered.
1. Khosla Ka Ghosla! (2006)
Khosla Ka Ghosla! is a delightful comedy-drama that revolves around the struggles of a middle-class family trying to reclaim their land from a cunning real estate tycoon. With a stellar cast led by Anupam Kher and Boman Irani, this film presents a hilarious tale of wit, resilience, and the indomitable spirit of the common man.
2. Bheja Fry (2007)
Bheja Fry is a comedy film that introduces us to the quirky character of Bharat Bhushan, played by Vinay Pathak. The story follows Bharat, a simple-minded tax inspector with a passion for singing, who unexpectedly finds himself invited to a house party hosted by a wealthy businessman. The ensuing events are a laugh riot, making Bheja Fry a must-watch for its brilliant performances and light-hearted humor.
3. Jaane Bhi Do Yaaro (1983)
Jaane Bhi Do Yaaro is a satirical comedy film that delves into the corruption and hypocrisy prevalent in society. Directed by Kundan Shah, this movie follows the escapades of two photographers who inadvertently capture a murder on camera. With its clever wit, memorable characters, and brilliant social commentary, Jaane Bhi Do Yaaro remains a cult classic that deserves more recognition.
4. Chashme Buddoor (1981)
Chashme Buddoor is a charming romantic comedy that tells the story of three friends who fall in love with the same girl. Directed by Sai Paranjpye, this film is known for its light-hearted humor, memorable dialogues, and soulful music. Despite being a commercial success during its time, Chashme Buddoor often gets overshadowed by other films of that era and deserves more appreciation.
5. Khichdi: The Movie (2010)
Khichdi: The Movie is a hilarious adaptation of the popular Indian television series "Khichdi." The film brings back the lovable dysfunctional Parekh family, who find themselves caught in a series of comical situations while trying to retrieve a stolen idol. Packed with absurd humor, quirky characters, and laugh-out-loud moments, Khichdi: The Movie is a pure joyride of laughter.
6. Angoor (1982)
Angoor is a classic comedy film inspired by Shakespeare's play "The Comedy of Errors." Directed by Gulzar, the movie showcases the double role performances of Sanjeev Kumar and Deven Verma, as two pairs of identical twins. With its brilliant dialogues, impeccable timing, and uproarious situations, Angoor is a timeless comedy that deserves more recognition among Bollywood enthusiasts.
7. Peepli Live (2010)
Peepli Live is a satirical comedy-drama that sheds light on the media circus surrounding farmer suicides in rural India. Directed by Anusha Rizvi, the film humorously portrays the social and political realities of the country. With its witty dialogues, sharp commentary, and brilliant performances, Peepli Live stands out as a thought-provoking yet entertaining piece of cinema.
8. Mumbai Matinee (2003)
Mumbai Matinee is a romantic comedy that follows the life of Debu, an aspiring writer who finds himself caught in a web of romantic entanglements. Directed by Anant Balani, this film is known for its quirky characters, situational humor, and an endearing love story. Mumbai Matinee brings a fresh and lighthearted approach to comedy, making it a hidden gem waiting to be discovered.
9. Dasvidaniya (2008)
Dasvidaniya is a heartwarming comedy-drama that revolves around the life of Amar Kaul, a middle-aged man who receives news of his terminal illness. Determined to make the most of his remaining time, Amar creates a bucket list and embarks on a journey of self-discovery. Vinay Pathak delivers a remarkable performance, combining humor and emotions in this underrated gem that deserves more recognition.
10. Oye Lucky! Lucky Oye! (2008)
Oye Lucky! Lucky Oye! is a crime comedy film inspired by the real-life escapades of a notorious thief. Abhay Deol shines in the lead role, portraying the charismatic and audacious Lucky. With its witty dialogues, quirky narrative style, and an unconventional protagonist, this film is an underrated gem that offers a fresh and entertaining take on the comedy genre.
FAQs
Q: Are these movies family-friendly?
A: Most of these movies are suitable for a wide audience, but it's always advisable to check the ratings and content of each film before watching with young children.
Q: Where can I watch these underrated Bollywood comedy movies?
A: These movies are available on various streaming platforms, such as Netflix, Amazon Prime Video, and Disney+ Hotstar. Check your preferred streaming service to find these hidden gems.
Q: Why are these movies underrated?
A: Some of these movies may have faced limited promotion or release, leading to lower visibility and recognition among the audience. However, they offer unique storytelling and exceptional comedic elements that deserve more appreciation.
Conclusion
It's time to expand your Bollywood comedy movie horizons with these underrated gems. From heartfelt comedies to satirical masterpieces, these films offer a refreshing break from the mainstream and deserve more recognition. So, grab your popcorn, get cozy, and immerse yourself in the laughter and joy that these hidden treasures have to offer. Give these underrated Bollywood comedy movies a chance, and you might just discover your new favorites in the world of laughter and entertainment!
You may also like: 10 Funniest Comedy Movies in Bollywood