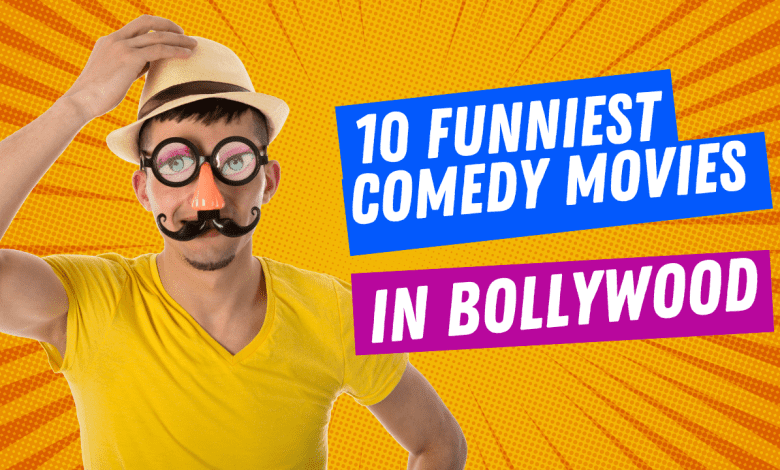 If you're a fan of comedy movies, Bollywood has a treasure trove of laughter-inducing gems to offer. From witty dialogues to hilarious situations, the Hindi film industry has produced some of the funniest comedies that will leave you rolling on the floor with laughter. In this article, we present the top 10 funniest comedy movies in Bollywood that have won the hearts of audiences and continue to be enjoyed by fans of all ages.
So, grab your popcorn, sit back, and get ready to embark on a laughter-filled journey through the best of Bollywood's comedy flicks!
1. Andaz Apna Apna (1994)
Andaz Apna Apna is an iconic comedy film that features the misadventures of two slackers, Amar and Prem, played by Aamir Khan and Salman Khan, respectively. With hilarious dialogues and memorable characters like Crime Master Gogo, played by Shakti Kapoor, this movie is a laugh riot from start to finish. Andaz Apna Apna has become a cult classic and is often regarded as one of the funniest movies ever made in Bollywood.
2. Golmaal: Fun Unlimited (2006)
Golmaal: Fun Unlimited is a comedy film directed by Rohit Shetty. It revolves around the lives of four friends who find themselves in a series of comedic situations. With a talented ensemble cast including Ajay Devgn, Arshad Warsi, Tusshar Kapoor, and Sharman Joshi, this film is known for its witty one-liners and slapstick humor. Golmaal: Fun Unlimited was a box office success and spawned several sequels.
3. Hera Pheri (2000)
Hera Pheri is a cult comedy film that has achieved legendary status in Bollywood. Starring Akshay Kumar, Suniel Shetty, and Paresh Rawal, the movie tells the story of three individuals who find themselves in a hilarious mess after a wrong phone call. The brilliant comic timing of the actors combined with a brilliant screenplay makes Hera Pheri an unforgettable comedy experience.
4. Chupke Chupke (1975)
Chupke Chupke is a classic comedy film directed by Hrishikesh Mukherjee. The movie features an all-star cast including Dharmendra, Sharmila Tagore, Amitabh Bachchan, and Jaya Bachchan. It follows the story of a newly married couple who play a practical joke on their friends and family, leading to hilarious consequences. Chupke Chupke is known for its witty dialogues and impeccable comic timing.
5. Munna Bhai MBBS (2003)
Munna Bhai MBBS is a heartwarming comedy-drama that brought a breath of fresh air to Bollywood. Starring Sanjay Dutt as the lovable goon Munna Bhai, the film combines comedy with social messages. With memorable characters like Circuit, played by Arshad Warsi, Munna Bhai MBBS is a laugh riot that also leaves a lasting impact.
6. Welcome (2007)
Welcome is a comedy film that revolves around the story of two young men who fall in love with the same girl, leading to a series of hilarious events. Starring Akshay Kumar, Nana Patekar, and Anil Kapoor, the film is known for its rib-tickling dialogues and comic timing. Welcome is a perfect blend of comedy and entertainment, making it a must-watch for comedy movie enthusiasts.
7. Dhamaal (2007)
Dhamaal is a comedy film that follows the misadventures of four friends who stumble upon a hidden treasure. With a talented ensemble cast including Riteish Deshmukh, Arshad Warsi, Javed Jaffrey, and Sanjay Dutt, the film is packed with hilarious moments and slapstick comedy. Dhamaal's sequel, Double Dhamaal, and its spin-off Total Dhamaal also garnered popularity among comedy movie lovers.
8. 3 Idiots (2009)
3 Idiots is a comedy-drama film that tackles the pressure and expectations faced by students in India's education system. Starring Aamir Khan, R. Madhavan, and Sharman Joshi, the movie blends humor, emotions, and social messages seamlessly. With witty dialogues, memorable characters, and a heartwarming storyline, 3 Idiots became a massive success and continues to be loved by audiences worldwide.
9. Bheja Fry (2007)
Bheja Fry is a comedy film that revolves around the life of a simple-minded tax inspector who aspires to be a singer. When he attends a house party hosted by a wealthy businessman, chaos and hilarity ensue. The film showcases brilliant performances by Vinay Pathak and Rajat Kapoor and is known for its light-hearted humor and clever plot twists.
10. Bhool Bhulaiyaa (2007)
Bhool Bhulaiyaa is a horror-comedy film with a perfect blend of scares and laughs. Starring Akshay Kumar, Vidya Balan, and Shiney Ahuja, the movie follows the story of a psychiatrist who is called to investigate a series of supernatural events. With its witty dialogues, memorable characters, and a captivating storyline, Bhool Bhulaiyaa keeps the audience entertained throughout.
FAQs
Q: Are these movies suitable for all age groups?
A: While most of these movies are family-friendly, it is advisable to check the ratings and content of each film before watching with young children.
Q: Are there any sequels to these movies?
A: Yes, some of the movies on this list have sequels or spin-offs that are worth checking out if you enjoyed the originals.
Q: Are English subtitles available for these movies?
A: Most of these movies have English subtitles available, making them accessible to a wider audience.
Conclusion
Bollywood has delivered countless memorable comedy movies over the years, bringing laughter and joy to audiences. The films listed above represent a diverse range of comedy styles, from slapstick humor to witty dialogues and heartwarming stories. Whether you're in the mood for a laugh-out-loud riot or a comedy-drama with a social message, these movies will surely keep you entertained.
So, gather your friends and family, and get ready to enjoy these hilarious Bollywood comedy movies that have stood the test of time. Laugh till your sides hurt, because as they say, laughter is the best medicine!